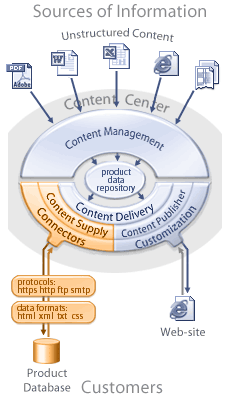 What Is Content Supply
Content Supply is a product data export service. Product information is delivered directly from our Product Data Repository to your product information database.
In our Product Data Repository we have detailed information for more than 15 000 products. The database is continually growing. If we don`t have all your products or manufacturers, then please contact us for content management.
We provide our content in any form, convenient for customers, and use any convenient method of delivery.
We develop and support transporters or connectors required to your database.
Available Data Formats are: HTML, XML, TXT, CSV
Supported Transport Protocols are: HTTPS, HTTP, FTP, SMTP
We provide regular database updates.
Why You Should Use Content Supply
Strong product content gives customers enough information to support purchasing decision, increase loyalty and, as a result, it drives purchases online.
Using Content supply you can decrease costs connected with creating product content "in house" and eliminate capital expenditures related to own content management department.
Benefits For Your Business
Rapid launch
Increased sales
Customer retention
Time and cost efficiencies
Accelerated time to market
Regular new product updates in your database.

Download >>


Content Publisher Whitepaper

Learn more about other Content Centre Services:
Contact Content Centre
IT4profit Content Centre is opened for cooperation with any e-commerce project that needs the top-quality content support. To get more information or to learn more how your company could benefit from IT4profit Content Centre services, please contact cc@it4profit.com or our representative offices.