Have you ever asked customers about their product information needs? We did !
Firstly , your customers want to find detailed product information at one place.
They are becoming increasingly frustrated by poor product descriptions at your website
and hyperlinks to larger manufacturers' websites where they are often lost and waylaid.
Secondly , your customers want product data in a clear and consistent format that allows them to search and compare products easily.
Thirdly , they need real pricing and availability information to take buying decisions with you.
We create product data which powers your ERP and e-commerce websites
IT4profit's Content Factory provides distributors, integrators, resellers and retailers with product content - product marketing information, images, technical specifications, logistics and warranty data. Our product information helps first range European computer component distributors serve their existing customers and attract new customers in 22 countries all over the world.
IT4profit's product content has the multilevel structure which ensures its flexibility and multiple applications:
ERP Layer
Distributors Layer
Buyers Layer

Article
Manufacturer
Product type
Logistics info

Product autoname
Image
Brief technical specs
Brief marketing info

Detailed autoname
High resolution image
Detailed technical specs
Rich marketing info

Basic product data for a company's ERP system and transfer between partners' ERPs; for automatic logistic calculations.

Brief product information for interactions between sales and purchase services, and a customer company's staff.

Detailed product content represents real products and gives a buyer enough information to support his purchasing decision.
Our product content features are:
Interaction with ERP Logistics Module
Ability to create PO to Manufacturer and Supplier
Ability to built-up both simple and complex autonames
Interaction with simple and complex automatic solutions and services
Generation of simple and complex product classification and categorization
Presentation of detailed product information in different forms
Ability to customize structure, completeness of product information and its look & feel
in accordance with customer's business needs
Multilingual support.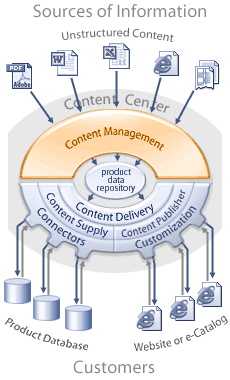 Product Content Management process
We work closely with you and your suppliers to produce and maintain good product information which will support your online catalog and which we can also translate into a dozen languages to promote your international presence.
We aggregate unstructured content from multiply sources, including exclusive sources of information from leading manufacturers;
Enhance content: categorise, normalise and rationalise it;
Enrich data with high resolution images;
Assure the quality which guarantees reliability and integrity of content to meet your requirements.
Product Content related solutions
Sales Support Solutions >>
Content Publisher >>
Get more information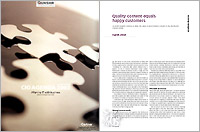 As profit margins continue to slide, the value of good product information in the distribution channel climbs.>>
CIO Agenda 2003, volume two
Contact us
Our Content Factory is open for cooperation with distributors, resellers, integrators, online shops, b2b and b2c projects that need the quality product content. To get more information, please contact us at cc@it4profit.com or our representative offices .