What Is Content Publisher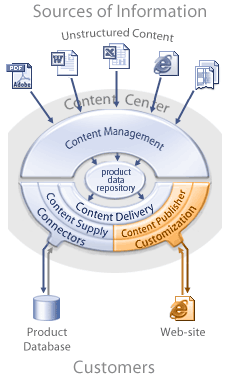 Content Publisher delivers our ready product content in the form of HTML product cards to your catalog or website.
We provide the direct links to our HTML product cards and you add them to your online catalog. Every time the customer requests certain product information on your website, it is delivered from IT4profit and shown directly at your online catalog.
Why Do You Need Content Publisher
Your customers have access to detailed product information from 90 manufacturers. Select the products you want and if we don`t have all your products or manufacturers, please let us know and we`ll try and add them to the database for you.
Our product information is in 10 languages for your international customers.
Access to Content Publisher allows eliminate capital expenditures related to own content management department support, such as: salaries, computer equipment, CMS software, additional web traffic, etc.
Customization
Content Publisher allows to present the ready product information on your website in accordance with your corporate look & feel. It means that all product cards will look like your own web site.
Logo: You can insert your company Logo or Name
Ad Space: You can use Ad Space to place your advertisements or fill with background
Color Scheme: You can select one of the standard color schemes
Advanced Customization: Allows you to change colors, fonts and style of product card in your own way
Basket Address: You can add basket address that allows your customers to add selected products to cart or wish list
When your customer clicks on product links on your website, product card will be open in popup window. It will look exactly like your own website, because you have the possibility to customize it as mentioned above.
View a sample of customised card >>

Download >>


Content Publisher Whitepaper

Benefits For Your Business
Increased sales
Customer retention
Time and cost efficiencies
Accelerated time to market
Brand consistency
Easy accessible new product information
Regular new product updates in your e-Catalog
Benefits For Your Customers
Single point of contact for detailed product information
Easy to use product content

How To Subscribe To Content Publisher
You can start your 14-days Free Trial >>.

If satisfied with the service provided, please contact
IT4profit Content Centre for more information.
Learn more about other Content Centre Services:
Contact Content Centre
IT4profit Content Centre is opened for cooperation with any e-commerce project that needs the top-quality content support. To get more information or to learn more how your company could benefit from IT4profit Content Centre services, please contact cc@it4profit.com or our representative offices.