Get product information to fuel your e-commerce
IT4profit's Product Content Management provides affordable and detailed product information to help your customers make better informed buying decisions with you.
It has been proven that a major reason why customers will regularly return to your website is because they are seeking product information which they want presented in a clear and consistent format.
Today we offer affordable product content mainly but not exclusively for the IT industry. Our customers are manufacturers, distributors, resellers, integrators, IT shops, b2b exchanges, portals and e-marketplaces. You can get our rich product descriptions in either of two ways :

Outsource the production of your product content to IT4profit and we will work closely with you and your suppliers to produce, maintain and translate it to support your international web presence. Read more


License off-the-shelf product data from our product catalog
which covers today :
220+ manufacturers
180+ product categories
10 languages
various formats to suit your business needs,
including HTML, XML, TXT, CSV.
We can customize HTML product cards according to your
website look & feel (corporate style).
To take a closer look please visit our online catalog or view some
product descriptions here : Prestigio monitor , Intel MB , Seagate HDD.
Quality product content equals happy customers
The presence of good product information is a key factor to your web success. Customers want product data but having got it also want to compare products and get qualified advice while purchasing. Today we offer affordable product content which interacts with sales support and customer attraction solutions. Read more

Our philosophy is that product content is intrinsic not only to an organisation's online catalog, e-shop and web success, but also important to its procurement, order management, ERP and supply-chain. Having decided to buy from you customers want pricing, availability and the possibility to track and trace their orders. Thus IT4profit has developed other complementary online solutions for small to medium sized organisations in distribution channels such as order management, inventory and warehouse management, trading and connectivity.
Our product content and solutions can be offered as 'stand alone' or as part of an affordable ASP service.
Recently implemented product content

CANYON , a growing world standard company that manufactures computer components and peripherals has integrated IT4profit product content to its online product catalog . Canyon's product lines include Intel and VIA chipset based motherboards, networking products for local network management in both small and medium-sized businesses, external USB storage products and nVidia based video cards.

Sky Computers Austria , a distributor of computer components and peripherals, memory, mainboards, CPUs, HDDs and other computer accessories has implemented IT4profit product content to its online product catalog. IT4pofit product content was seamlessly integrated to Sky Computers Austria existing online catalog. Read the Press Release >>
Get more information
Product Content related services and solutions
Product Content Management


Sales Support Solutions


Content Publisher

Presentations and Product Briefs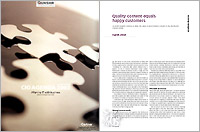 As profit margins continue to slide, the value of good product information in the distribution channel climbs.>>
CIO Agenda 2003, volume two
View e-Catalog Product Brief (.PDF 103 KB) >>

Flash Demos
To get access to the detailed demo of e-Catalog and other solutions, please complete the registration form >> .


Contact us
Our Content Factory is open for cooperation with distributors, resellers, integrators, online shops, b2b and b2c projects that need the quality product content. To get more information, please contact us at cc@it4profit.com or our representative offices .